Andrew J. Goodpaster Award for Excellence in Research
---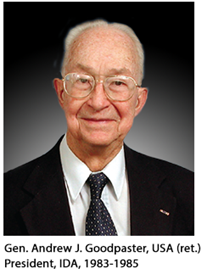 IDA's ability to fulfill its mission depends on the dedication and expertise of its entire staff. Each year, IDA recognizes those employees who surpass the normal level of excellence. IDA presents annually the Andrew J. Goodpaster Award for Excellence in Research to an individual who has demonstrated intellectual leadership within the IDA community. The 2019 winner of the Goodpaster Award is Laura Odell of the Information Technology and Systems Division.
Larry D. Welch Award for Best External Publication
---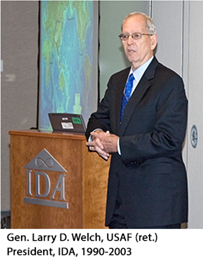 The Larry D. Welch Award was established in 2011 to honor individuals whose external publications exemplify General Welch's high standards of analytic excellence and relevance. The award recognizes the best external publication related to IDA business areas—or associated academic disciplines that form the building blocks of our expertise—appearing in peer-reviewed journals or other professional publications, including books and monographs. The winners of the 2020 Welch Award are Operational Evaluation Division (OED) researchers Joel Williamsen and Daniel Pechkis, Science and Technology Policy Institute (STPI) researcher Asha Balakrishnan, and System Evaluation Division (SED) researcher Stephen Ouellette.
W.Y. Smith Award for Excellence
---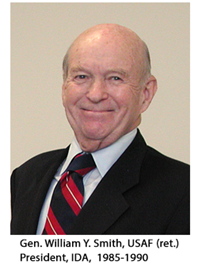 The W.Y. Smith Award for Excellence recognizes outstanding contributions by staff members. IDA announces Jason Greer of the Information Technology Directorate as this year's winner.
IDA's President's Award for Excellence
---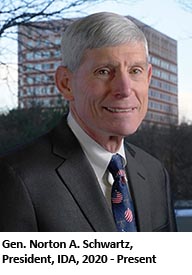 The IDA President's Award for Excellence recognizes sustained superior performance by a non-research staff member over a significant period of time that contributes significantly to IDA's success. Krista Cloutier is this year's President's Award for Excellence recipient.