Explore your potential at IDA!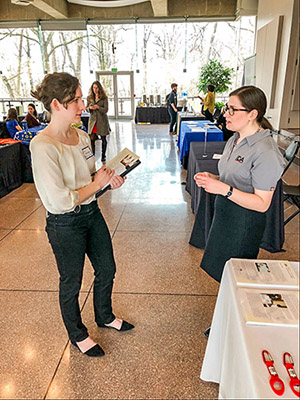 We're on campuses around the country actively looking for talented students and participating in events that provide students and faculty with information on IDA's analytical work and career opportunities. Whether at a university-sponsored career fair, a small group meeting, or a professional talk targeting a specific group of students, we continually seek opportunities to interact with students, help them learn more about what we do, and let them know where they might contribute. IDA also participates in industry conferences, professional society events and veteran job fairs seeking experienced professionals, former military officers, and veterans transitioning to the civilian workforce.
Browse the list of events below to find an event near you. This is an excellent opportunity to meet IDA research staff members and recruiters and learn about the company and our career opportunities.
During this unprecedented time, we have adapted our recruiting and outreach strategies by participating in virtual career fair events and conducting virtual interviews. We encourage you to apply to our open and available job opportunities. Thank you for your interest in IDA.
Campus & Career Events
September 26-27, 2023

University of Maryland, College Park: 2023 Fall Career & Internship Fair (STEM Focus)

September 27, 2023

George Mason University Fall Career Fair (STEM focus)

September 28, 2023

George Mason University: Business, Public Service and Non-Tech Career Fair

September 28, 2023

Northwestern Career Advancement In Person Career Fair (Fall 2023)

September 30 - October 2, 2023

2023 AWM Research Symposium

October 3, 2023

Columbia University Fall Employer Showcase

October 12, 2023

Caltech and Harvey Mudd Fall 2023 STEM Career Fair

October 12, 2023

Hispanic-Serving Institutions (HSI) Fall 2023 Virtual Career Fair

October 13, 2023

MIT 2023 Fall Career Fair (Virtual)

October 19, 2023

Northwestern SWE Industry Day (Virtual)

October 20, 2023

Michigan State University: Marketing Research and Business Data Science & Analytics Career Fair (Virtual)

October 23, 2023

67th Human Factors and Ergonomics Society (HFES)

October 26-28, 2023

Society of Women Engineers 2023 Conference and Career Fair,

Los Angeles, CA



November 1-5, 2023

2023 SHPE National Convention,

Salt Lake City, UT



Questions on these events can be directed to employment@ida.org.