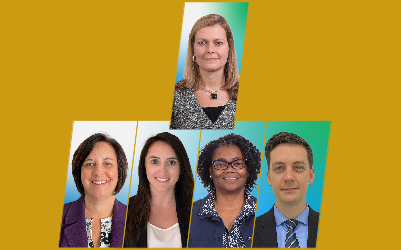 ---
The 2021 W. Y. Smith Award winners include Francesca Werner for the individual award and Karen Myers, Katie Hall, Pamela Harris and Etienne "Steven" Houdbert for the team award. Named in honor of General William Y. Smith, who led IDA from late 1985 through late 1990, the award recognizes extraordinary individual or group contributions to IDA from the wide range of non-research exempt staff members who contribute to our success.
Francesca Werner
Since early 2021, Francesca Werner has been a key contributor to IDA's on-going Business Modernization Initiative, and her work is well-known across the company. Using her in-depth understanding of IDA's business and operations, she led the effort to realign administrative staff and business processes to improve efficiency, responsiveness and overall performance of the System and Evaluation Division (SED). Francesca provided detailed reports for initial financial modernization efforts. She then carried out the crucial work of assessing the SED staff's workload and evaluated options for distributing work among the team. Where she saw changes were necessary, Francesca reorganized responsibilities, saw that training was provided where needed, provided clear answers and communicated thoroughly to research staff about changes.
On top of her regular duties managing SED's day-to-day business operations, Francesca supported a variety of ad hoc analyses and initiatives for Finance in 2021. She participated in brainstorming sessions for Joint Worldwide Intelligence System (JWICS) accounts and gave feedback and solutions during those discussions. She also provided feedback on the model for tracking and projecting staff-year delivery metrics, consultant processing and labor charging and served on rounds of interview panels for the Project Manager, Business Transformation and Modernization.
Karen Myers, Katie Hall, Pamela Harris and Etienne "Steven" Houdbert
As a team, these individuals were responsible for the successful completion of IDA's Contractor Purchasing System Review (CPSR) and the end-to-end consultant process. In their efforts towards completing IDA's CPSR, the team worked together reviewing and updating policies, procedures, workflow and templates. They developed a comprehensive Procurement Policy and Procedural Manual, which includes more than 60 procurement policies. The group implemented new processes, which streamlined the delegation of signature authority for files; and they ensured company directors, managers and project leaders across the company were well-trained in the new processes.
The team also established a new Contractor Purchasing System Review (CPSR)-compliant consultant agreement and honoraria system. Through templates, examples, implementing IT requirements, and providing training, they revamped the procedures and processes to make them meet all of the goals for the new system.
Completing these two procurement projects enables IDA to maintain an approved purchasing system that meets sponsor requirements, supports timely purchasing and avoids non-value-added extra work for our government contracting officers.