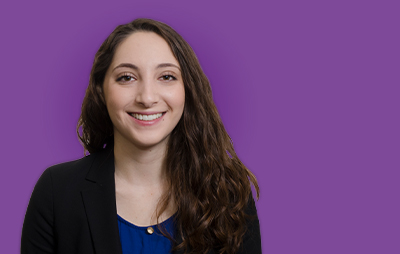 ---
Julia Warshafsky of the Information Technology and Systems Division is the winner of the 2021 David S. C. Chu Award for Research Excellence, named in honor of the former IDA president. The award is presented annually to a Research Associate who has made one or more outstanding analytic contributions in support of IDA's mission.
The award reflects Julia's significant contributions to numerous research projects, including an assessment of the cyber workforce needs of the National Guard Bureau (NGB). Demonstrating exceptional leadership skills and drive, she became the de facto project integrator for a team of 10 researchers, helping them resolve challenges across the operational, technical, legal, and policy disciplines essential to today's cyberspace operations. She was instrumental in shaping the two final reports, one for Congress and one for internal NGB use. She briefed the results to NGB leadership and IDA's board of trustees. The NGB forwarded the IDA report to Congress with no changes and subsequently implemented many of IDA's recommendations. Julia has also been a member of IAD's emulations team for three years, helping to support U.S. planning and policy development for the Indo-Pacific region.
Julia reflects the outstanding qualities IDA seeks in its best researchers at all levels. She proposed an IDA-wide series of events to improve division productivity; provide visibility into ongoing projects; and help newer staff members better understand the IDA organization, the expertise of IDA employees, and projects they could support. She evolved her concept into IDA Connects.
Julia joined IDA in 2015 following her graduation with a bachelor's degree in political science and Spanish from The Pennsylvania State University, where she was elected to Phi Beta Kappa. As an IDA Scholar, she completed a master's degree in security studies from Georgetown University with a focus on cybersecurity in December 2020.